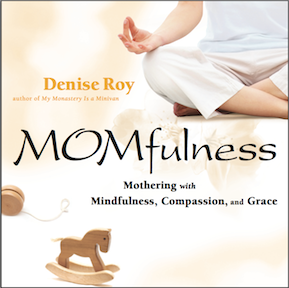 (Jossey-Bass/Wiley, 2007)

"Momfulness is a blessing and a prayer--The way to wholeness is in these pages."
   - Christiane Northrup, MD, Mother-Daughter Wisdom, and Women's Bodies, Women's Wisdom

"Momfulness is a wonderful guide for conscious mothering in an all-too-busy world. I love this book!"
   - Michele Borba, Ed.D., 12 Simple Secrets Real Moms Know and Parents Do Make a Difference

In this book, Denise Roy offers simple yet profound practices that bring grace, balance, and peace to busy on-the-go moms.

She combines the hard-won wisdom of a parent with the insights of meditation to create a spiritual practice that goes to the heart of everyday life: mothering with mindfulness. Through anecdotes, reflections, and specific practices, this book invites mothers to wake up and embrace their lives, discovering that they are always standing on holy ground.

Random House Audio; Abridged edition
adapted from Momfulness
From AudioFile
Adapted from Roy's book, these calming meditations show that a healthy spiritual practice doesn't have to be distinct from motherhood. This thoughtful lesson offers insights, reflections, and practices that are as inviting as they are valid expressions of the experience of motherhood. Many of Roy's ideas sound like they come straight from the Buddhist playbook (thoughtful breathing, living in the present). Yet her approach is distinctly nondenominational, and includes a substantial amount of secular relaxation advice. With pleasantly precise enunciation and the intentional pacing of a mindful person, the authors speaking voice is perfect for her mission. This compact, perfectly executed lesson is a great vehicle for the inspiration and guidance Roy provides. T.W. © AudioFile 2007, Portland, Maine-- Copyright © AudioFile, Portland, Maine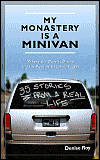 "The humour and honesty of Denise Roy's writing pulled me in right away. If you are not a saint but an ordinary man or woman hoping to live the joys and trials of daily life with your eyes and your heart wide open to the sacred, this is a book for you."
   Oriah Mountain Dreamer,The Invitation and The Dance

"If there is, indeed, a place where heaven and earth meet, it is in the pages of Denise Roy's book. She highlights the magic in seemingly ordinary events and reminds us to pay attention to the sacred lessons contained within them. Her stories call on us to be more aware, more human, and more compassionate as we move through the spiritual discipline called life."
   - Beth Wilson Saavedra, Meditations for New Mothers

This book will help you to discover the wonder and mystery and wisdom that exist right now in your own life. It invites us to embark on a journey--one in which we discover that nothing is off-limits as a potential source of wisdom, as the dwelling place for divinity. As monks and nuns of many traditions have been doing for centuries, we bring the entire world with us as we enter into our hearts, into our prayers, and into our monastery . . . which, in this day and age, just might happen to look a lot like a minivan.
Denise's essays have also appeared in the following books: The Maternal Is Political, by Shari MacDonald Strong; Your Children Will Raise You, by Eden Steinberg; I Like Being a Mom, by Theresa Borchard; The Miracle of Sons, edited by Jamie C. Miller and Jennifer Bayse Sander; Let Go, Let Miracles Happen by Kathy Cordova; and Humor for a Mom's Heart by Shari McDonald.